NA F-100D Sabre (42157)
NAHR category - Significant
Aircraft History
The North American F-100 Super Sabre was the first US fighter capabale of supersonic speed. It served with the United States Air Force (USAF) from 1954 to 1971 and with the Air National Guard (ANG) until 1979 and saw extensive action over South Vietnam as the Air Force's primary close air support jet. It was finally replaced by the more efficient subsonic A-7 Corsair II. The F-100 also served in several NATO air forces and with other US allies. In its later life, it was often referred to as "the Hun," a shortened version of "one hundred."
42157 History
42157 was supplied by USAF to the French Air Force (Armee de l'air) under the Military Assistance Program (MAP) between 1958-1959 and served with both EC.3 (Escadron de Chasse) and EC.11. At the end of active service in 1976 it was ferried to Chateaudun under the care of EdC.070 (Escardre de Convoyage), the based ferry unit for the removal of French owned equipment. It was officially returned to US charge on 24th May 1977 and ferried to Sculthorpe in Britain. Following final demilitarisation it was allocated to NEAM under a loan agreement with the USAF Museum. It arrived at our museum on 6th May 1978.
42157 history supplied by Air North.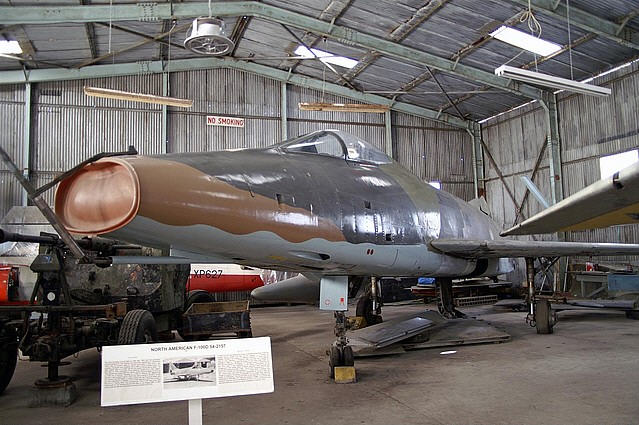 (Andy Court)