36Sqn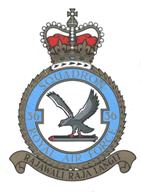 Badge: An eagle perched on a torpedo
Motto: Rajawala Raja Lanoit (Eagle King of the Sky)
36Sqn's North East history
No. 36Sqn RFC was formed from an existing home defence flight at Cramlington on 1st February 1916 as a night flying unit. It's primary role was to patrol the Newcastle area and defend against attacks from German airships. The squadron started initially equipped with BE.2c aircraft but received Bristol Scout and BE.12 types almost immediately. In May 1916 the squadrons area of responsibility was extended to cover the Forth to the North down to the Tees to the South. This was made possible by forming detachments at Seaton Carew (A Flt), Hylton (B Flt) and Ashington (C Flt). By June 1916 the squadrons inventory was six BE.2c's, three BE.12's and two Bristol Scouts. Alongside its patrol role, 36Sqn was also responsible for night flying training. This resulted that on 8th June 1916 some aircraft and personnel were transferred to form 58Sqn. This practice continued with 76Sqn being formed by the same method on 15th September 1916.
In addition to its base and detachment locations, the squadron also had the use of relief landing grounds at Beacon Hill (near Longhorsley), Benton, Bishopton, Catley Hill (Trimdon), Cleadon, Currock Hill, Easington, Horsegate (near High Spen), Longhorsley, Ponteland, Rennington, Snipe House (near Shilbottle), Spennymoor, Stamford (near Alnwick) and Tynemouth
On 12th October 1916 the squadron moved to Newcastle, but retained its detachments at Seaton Carew, Hylton and Ashington. On 27th November 1916 Lt I. V. Pyott flying a BE.2c (serial number 2738) attacked and shot down German Zeppelin L34 off the mouth of the Tees. In late 1916 through 1917, the squadron received new aircraft in the form of BE.2e, FE.2b, FE.2d, Sopwith Pup and Bristol F.2b. During August 1917 the detached flights were re-titled with Hylton becoming A Flt, Ashington B Flt and C Flt at Seaton Carew.
The squadron experienced more action on 13th March 1918 when 2nd Lt E. C. Morris and 2nd Lt. R. D. Lindford flying a FE.2d (A6422) intercepted German Zeppelin L42 over Hartlepool. They were unable to shoot down the airship but did prevent it from reaching its target. On 1st July 1918, the squadron moved to Hylton (Hylton became Usworth on 15th) with detachments at Seaton Carew and Ashington. Each flight had an allocation of four Sopwith Pup's and four Bristol F.2b's.
The squadron disbanded on 13th June 1919. It reformed on 1st October 1930 and remained active until 3rd November 1975, however during this period was never based at a North East airfield.
36Sqn Commanding Officers :-
| | | |
| --- | --- | --- |
| Date From | Date To | Commanding Officer |
| 01/02/1916 | 26/04/1916 | Captain R. O. Abercromby |
| 24/04/1916 | 26/10/1916 | Major C. S. Burnett |
| 26/10/1916 | 22/01/1917 | Major A. C. E. Marsh |
| 22/01/1917 | 01/01/1918 | Major J. H. S. Tyssen |
| 01/01/1918 | 26/07/1918 | Major S. W. Price |
| 26/07/1918 | 16/01/1919 | Major Wulstan Joseph Tempest (DSO) |
A 'diary' of North-East squadron history follows :-
| | |
| --- | --- |
| Date | Event |
| 01/02/1916 | Formed at Cramlington |
| ??/02/1916 | Received BE.2c (in use until Jun 1917) |
| ??/02/1916 | Received Bristol Scout (in use until Jul 1916) |
| ??/05/1916 | Received BE.12 (in use until Aug 1917) |
| ??/05/1916 | Det @ Ashington, Seaton Carew & Hylton |
| 12/10/1916 | To Newcastle |
| ??/12/1916 | Received BE2e (in use until Aug 1917) |
| ??/06/1917 | Received FE.2b (in use until Aug 1918) |
| ??/09/1917 | Received FE.2d (in use until Aug 1918) |
| ??/04/1918 | Received Sopwith Pup (in use until Nov 1918) |
| ??/04/1918 | Received Bristol F.2b (in use until Jun 1919) |
| 01/07/1918 | To Usworth/Hylton (dets @ Seaton Carew, Ashington) |
| 13/06/1919 | Disbanded |
Representative Aircraft
| | | | | | | |
| --- | --- | --- | --- | --- | --- | --- |
| Avro 504 | 2911 | 2912 | 2913 | 2914 | 2924 | 2935 |
| | 7735 | 7739 | | | | |
| | | | | | | |
| AW FK.3 | 5514 | 5517 | 5526 | 5529 | | |
| | | | | | | |
| Bristol Scout | 5569 | | | | | |
| | | | | | | |
| BE.2b | 2772 | | | | | |
| | | | | | | |
| BE.2c | 2071 | 2471 | 2483 | 2724 | 2725 | 2738 |
| | 2739 | 2740 | 2749 | 4121 | 4130 | 4394 |
| | 4559 | 4590 | 7342 | 7344 | | |
| | | | | | | |
| BE.2e | 6310 | 7342 | 7344 | B4414 | B4444 | |
| | | | | | | |
| BE.12 | 6139 | 6140 | 6141 | 6490 | 6494 | 6499 |
| | 6510 | 6616 | 6634 | 6662 | | |
| | | | | | | |
| FE.2b | 4976 | A5470 | A5534 | A5538 | A5542 | A5561 |
| | A5622 | A5634 | A5653 | A5683 | A5684 | A5719 |
| | A5738 | A5740 | A5741 | B421 | C9793 | D9773 |
| | | | | | | |
| FE.2d | A6422 | A6429 | A6442 | A6451 | A6461 | A6462 |
| | A6474 | A6535 | A6582 | A6584 | A6586 | A6642 |
| | B1883 | | | | | |
| | | | | | | |
| Bristol F.2b | B1185 | C4780 | C4896 | C4897 | C4698 | D8084 |
| | | | | | | |
| Sopwith Pup | B849 | B1763 | B1805 | B1807 | B5905 | B5906 |
| | C291 | C303 | C306 | C326 | | |